The Senior Pembroke Academy of Music (PAM) is an open access music project for around 50 children and young people aged 7-14. PAM provides high-quality music tuition in a range of musical disciplines, at subsidised rates for all pupils in order to make tuition affordable to children who would otherwise not be able to afford it. Professional tutors teach music theory, practice and choral singing, to encourage a love of music and help students grow in confidence and teamwork. PAM has no lower skills limit.
PAM benefits children, their families and the wider community by offering a unique space for musical education, enjoyment and appreciation and by giving the children a gift they will carry through their lives.
Which day? Wednesdays (term time)
What time? 6.30pm-8.45pm
Lower age limit? 7 (year 3)
Who to contact? Shem Jarrold shem.jarrold@pembrokehouse.org.uk
Any cost? £50 per term (£40 for a second child in the same family, £30 for a third); £30 per term for concessions (payable half-termly in advance)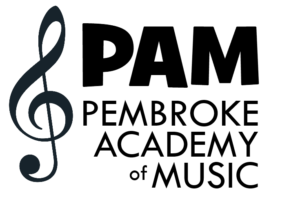 During term time, PAM students gather on Wednesday evenings for two hours of music making and learning. The session starts with Community Choir for all students, followed by graded music theory classes, and group tuition in violin, cello, flute, clarinet, trumpet, trombone, percussion, acoustic guitar and singing.
We charge £5.00 per session or £3.00 for concessions, with a sliding fee scale for younger siblings. This represents a fraction of the true cost of the Academy, which works out at about £600 per student per year.
A solid grounding in theory allows students to develop a broad variety of skills and learn potential new instruments more readily. As part of our monitoring process, parents commented that "The teaching of reading music [at PAM] is excellent". Another parent commented that "[My child] is reading music and teaching her friends at school."
The Academy also allows students to grow in confidence and self esteem by giving them the chance to perform in front of each other at the end of each term. One parent commented that her child's improved self confidence had resulted in a willingness to "attempt new things", which "shows in her recent school achievements." She added that "The approach everyone has to music is fantastic and they fill the children with confidence."
In our survey over 95% of our respondents said that PAM had benefited their child's wider education beyond music. PAM provides a valuable meeting ground for parents and young people. A parent commented "It is good for me as a mum to be able to do an activity outside home with my daughter." Another stated that "It's like a goldmine for the local community".
Students have the opportunity to perform in some very special places. Recent venues include St Paul's Cathedral, the chapel of Pembroke College, Cambridge, a 5 star hotel in central London and the Southbank Centre, as well as many concerts and special events at Pembroke House, where we have the use of a beautiful Steinway grand piano.